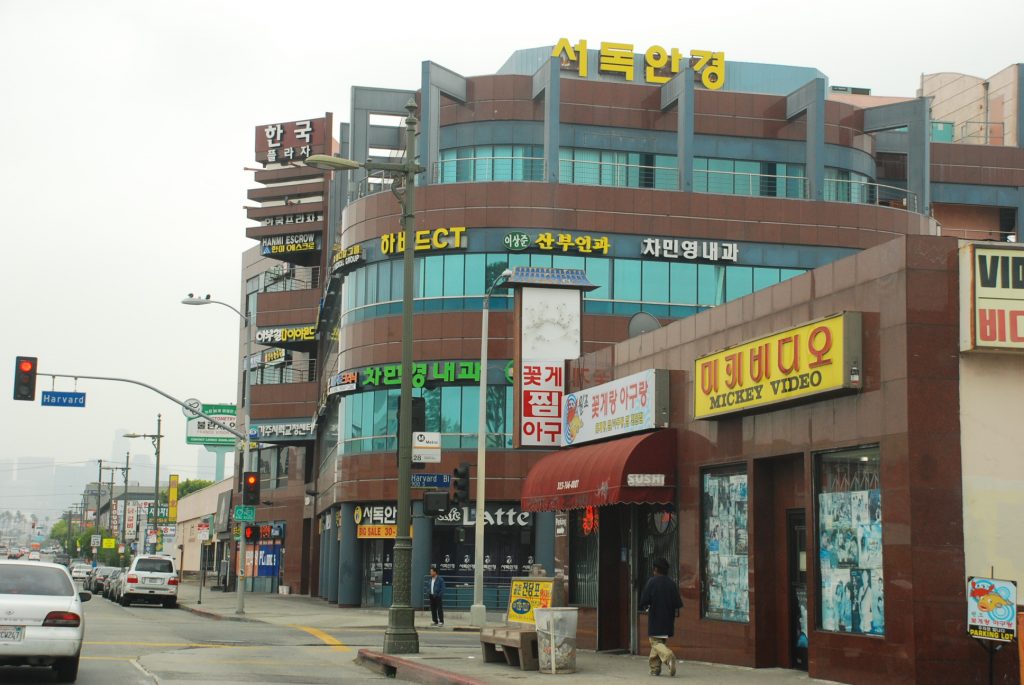 Photo Courtesy of Wikipedia.org
Koreatown is currently experiencing a construction boom, with a number of condominium, apartment and mixed-use projects being built or in the planning stages.
Nearly 3,000 apartment units are under construction, with over 5,000 more in the pipeline. Compared to the existing properties in the neighborhood, many of these new developments are more upscale, featuring plush finishes and amenities like gyms and dog parks.
With the growing demand for housing in the city, these new apartments offer a welcome solution. While they will have higher-than-usual rental fees, developers believe they will be welcomed by Los Angeles renters and this is not only because of their high-end features.  Living in Koreatown offers plenty of perks.  It is a highly walkable neighborhood with a central location and it will soon benefit from the planned westward extension of the Purple Line subway along Wilshire Boulevard.
In addition to all these, the neighborhood is a happening one with a diverse population that gives it plenty of cultural flavors. You can find myriad dining, shopping and entertainment options in Koreatown. It's one of LA's favorite tourist destinations!
Size and population
Koreatown got its name from the influx of Koreans and Korean Americans who settled in the area after 1965 when immigration restrictions for Asians were eased by the government. The émigrés established businesses along Wilshire Boulevard and Olympic Boulevard as well as along Western Avenue and Vermont Avenue turning the area into a distinct Korean hub.
According to 2015 U.S. Census estimates the neighborhood has a population of around 30,500 people per square mile, making it one of the densest communities in LA.  Koreatown has a total estimated area of 2.7 square miles and nearly all residents are renters.
Koreatown is home to people of a wide variety of cultural backgrounds; making the neighborhood a true melting pot of cultures and interests and reflecting the diversity that Los Angeles has always been known for.
Living in Koreatown
The diverse population has led to an interesting mix of neighborhood attractions and lifestyle. Koreatown is trilingual;  Korean, Spanish, and English are widely spoken here often in a mash-up of all three.
In the 1920s, Koreatown was popular among Hollywood celebrities and was home to the Ambassador Hotel where the Academy Award ceremonies were held in the 1930s and 1940s. While the hotel has been torn down, many historical buildings from this glamorous era remain standing amid newer shopping malls and offices.
Koreatown has the reputation of having the highest concentration of restaurants and bars in the entire Southern California. You will find 24-hour restaurants here as well as nightspots, karaoke clubs and other fun establishments that open until the wee hours of the morning.  Heading to a Korean spa is also a favorite neighborhood pastime.
The most popular cuisine in the neighborhood is definitely Korean.  People come in droves to sample the best Korean barbecue in the United States as well as other Korean favorites like stews, raw fish salads, tangy side dishes and more.
Latin cuisine is also in abundance as well as craft beers.  Some of the best establishments are tucked inconspicuously along the neighborhood's bustling streets.
The best finds include those that amazingly blend the community's diverse influences. A good example is Kogi Taqueria, a popular food truck business owned by a Korean American serving a wide variety of tacos, including what might well sum up the flavors of Koreatown: tofu tacos.