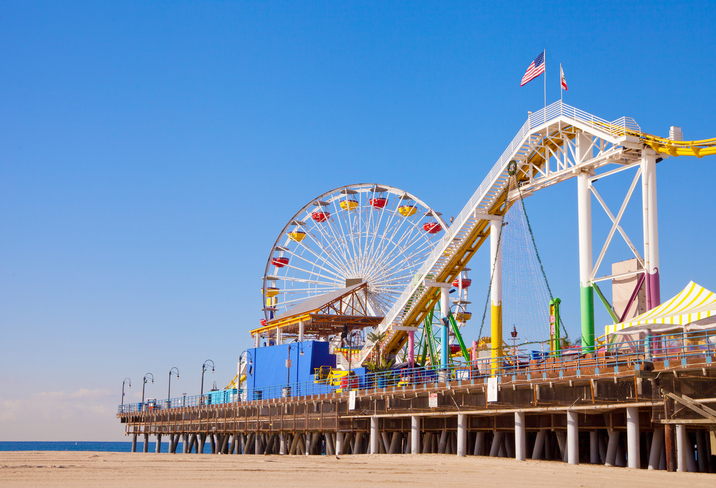 An attraction synonymous with the city itself, the famous Santa Monica Pier is a vibrant tourist attraction and a landmark that has stood for over a hundred years.
Located at the foot of Santa Monica's Colorado Avenue, the pier is home to a myriad of family-friendly attractions such as Pacific Park, the historic 1920s Looff Hippodrome Carousel, the Santa Monica Pier Aquarium, and a wide variety of shops, restaurants, and entertainment venues.
History
In order to solve problems with sanitation, the city of Santa Monica approved plans to construct a 1,600-foot long concrete pier, which completed construction after 16 months. The Santa Monica Municipal Pier opened on September 9, 1909 to a crowd of thousands, who all enjoyed a festive day filled with live performances, swimming and boating events, and other activities.
Although the pier was primarily built as a means of disposing the city's sewage, it soon transitioned into a fishing destination and a magnet for entrepreneurs. After several years, plans to build an amusement park next to the pier were set forth. Charles Looff, a well-known carousel carver and amusement mogul, then built a wider pier featuring an amusement park, connecting it to the Municipal Pier.
The new destination attracted countless visitors as it was easily accessible through the Pacific Electric Air Line and the trolley transporting passengers between Santa Monica and Venice.
Attractions
Today, the Santa Monica Pier remains one of California's most popular destinations, with its scenic ocean views and wide variety of family-friendly attractions.
Here are a few venues and activities you can enjoy at the Santa Monica Pier:
Pacific Park is a seaside amusement park that features several rides, including the Santa Monica Looff Hippodrome and the Pacific Wheel, the world's only solar-powered Ferris wheel. The amusement park is non-gated and is LA's only admission-free park, but individual rides require a fee. Pacific Park also features midway games, shops, dining venues, and the Seaside Pavilion, a venue for private and corporate events.
The Santa Monica Aquarium features more than a hundred different animal and plant species found within Santa Monica Bay. Established in 1996, the aquarium is operated by Heal the Bay, a non-profit organization focused on protecting Santa Monica Bay.
Visitors of Santa Monica Pier can choose from a delightful selection of dining venues serving a wide variety of tasty treats, including burgers, seafood, Italian food, and more. Satisfy your cravings at the Pac Park Food Court, or in restaurants such as Pier Burger, Rusty's Surf Ranch, or Mariasol Cocina Mexicana.
Want to fish at the pier? Whether you're a beginner or an experienced angler, you're sure to enjoy a relaxing and unforgettable fishing experience – just head to the Bait & Tackle shop for equipment and accessories.
Learn more about Santa Monica Pier's history by joining a free historical tour, available Saturday to Sunday at 11am and 12pm. Simply head to the Pier Shop at the Merry Go-Round Building and look for the Pier Docents wearing blue.
Want to know more about the Santa Monica Pier? Visit the attraction's official website here.